Dental Implants Available In Hornsby
A dental implant is a substitute of a tooth root inserted into the jawbone that keeps a replacement tooth or bridge in place. A dental implant is basically a fine titanium rod or screw.
It provides a strong foundation for teeth replacements which offer great advantages as well by looking natural and even comfortable despite having artificial teeth.
With the revolutionised technology yet simpler accessibility to the science behind this dental service, dental implants are more conspicuous in Hornsby than one may think.
The road to having artificial teeth that would still look and feel natural as well as obtaining comfort while eating and talking at the same time does not come as impossible and as pricey as one may think.
The $4699 price per tooth is open to additional discounts for multiple dental implants. One can also save 20% using website offers.
A dental implant procedure involves the following stages: the implant being placed into the jaw bone, the placement of a connector (or the abutment) to the implant, and the artificial tooth/teeth being attached to the abutment.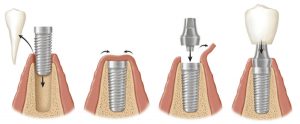 Like natural teeth, however, plaque and tartar can develop along the gum line of an artificial teeth, so it is prescribed that one attends post-surgery check-up appointments every six months.
Dental implants Hornsby is available in a lot of dental clinics around the area like Hornsby Dental in Edgeworth David Avenue. Have a look around the area and see which dental clinic gives you the best offer for dental implants.