Facebook Posts
---
What is a Dental Veneer?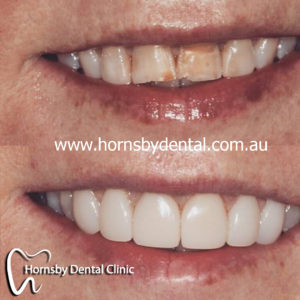 For whatever reason, you may want to change the appearance of your teeth in which case, veneers may be the long-lasting solution for you. A dental veneer is a thin facing that is bonded to the surface of your teeth to recreate the desire look.
What kind of Dental Veneer material should I choose?
At Hornsby Dental Clinic, our Dental Veneers are either made with composite resin or high strength porcelain.
How many visits will I need for my Dental Veneers?
Usually our dental veneers are done in pairs to best match the colour of mirroring teeth, and sometimes up to 8 can be placed at once to produce an even level of whiteness and tooth shape for the best looking result for your smile.
How much does a Dental Veneer cost?
At Hornsby Dental Clinic, we offer our veneers at an affordable cost. Our Composite veneers are approximately $550/veneer and approximately $1,100/veneer for our porcelain veneers.
Website Special
Payment Plan Available: Composite Veneers at $550 each and Porcelain Veneers at $1100 each.
Don't need a payment plan? Pay upfront and get a further 10% DISCOUNT! Composite Veneers at $495 each and Porcelain Veneers at $990 each.