What is orthodontics?
Orthodontics is about the prevention and treatment of misaligned teeth or malocclusion (bad bite). Orthodontic treatment uses different corrective appliances (braces, plates, functional appliances etc.) to bring both the teeth and jaw into its proper alignment. Different orthodontic treatments can be done in stages across different ages from childhood to adulthood.
Common orthodontic problems:
Tooth crowding: Crowded teeth are caused by a mismatch between jaw size and teeth size, while the jaw is too small and teeth are too big, the teeth will have an irregular and overcrowded appearance, and the space between each tooth will be too narrow for proper cleaning and will cause plaque/tartar retention in the area, also the appearance of crowded teeth can be unattractive.
Under-bite: When the lower jaw is more protruded then the upper jaw, lower front teeth will stay in front of the upper teeth and causes under-bite. An under-bite can cause jaw joint problem, it also looks unattractive and causes severe wearing of the front teeth. Conventional orthodontic appliances (braces, reverse pull head-gear, elastic bands etc.) can be used to correct most under-bite.
Open-bite: Normally, upper teeth and lower teeth come together during biting. In an open-bite, during biting there will be a big gap between upper front teeth and lower front teeth, this gap can cause speech and eating difficulties. Fortunately the gap between the teeth can be closed by orthodontic braces.
Impacted tooth: In childhood, impacted tooth doesn't have enough space for normal eruption. Without proper treatment it could be impacting into next door teeth and causes damage to adjacent teeth, impacted teeth can also cause irregularity of teeth alignment. Fortunately there're certain orthodontic treatment involves creating space to induct normal eruption.
Orthodontics for teenagers:

In most cases, orthodontic treatment can start during early teenage age when the last baby tooth has been shed. But in some cases, the treatment should commence just before the last baby tooth shed-off. Many orthodontic problems become apparent after seven years of age, however regular dental check-up for your children will be essential to detect an orthodontic problem earlier. Early detection and treatment prevents problems from developing and makes treatment at later stage shorter and less complicated.
Orthodontics for adults: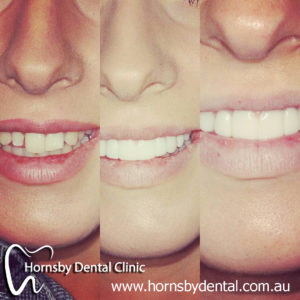 In the past, orthodontic treatment was only for children. But with advanced knowledge and technology, many orthodontic
problems (tooth crowding, impacted teeth, open-bite etc.) can be treated effectively even during adulthood. The goal of adult orthodontics is different, adult orthodontics is not simply about improving teeth arrangement and alignment, it's also about have the treatment done as efficient as possible with optimal results.
Careful initial consultation and treatment planning with a dentist Hornsby is essential for the commencement of adult orthodontics, it helps the dentist to understand patient's personal goal and also helps patient to realise certain limitations of orthodontics. There're whole ranges of treatment can help adult patients, such as Invisalign, elastic band, clear braces and lingual braces. The duration of the treatment highly depends on the complexity of the orthodontic procedure, consultation with the Hornsby dentist is welcomed and highly recommended.