Invisalign: Perfect Braces For Adults
One of the main features of Invisalign is their ability to mask or hide braces that is worn by their owners. This in turn makes them a bit harder to detect by passersby and onlookers which is a very much welcomed feature.
This is also the reason why Invisalign is quite popular to teenagers and young ones as they are able to wear these types of braces with little to no worries. With that being said, clear braces have also been a favourite for many adults because of their features.
Let us look at some of the reason why many adults agree when they say, Invisalign: Perfect braces for adults.
A number of adult braces variants can be very troublesome to put on providing a lot of inconvenience to their wearers. Such is not the case with Invisalign as these are removable unlike some of the braces for adults you see in the market.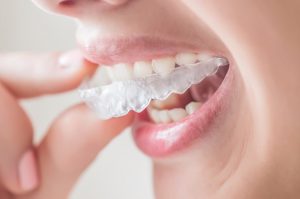 Clear braces can be removed for brief periods of time allowing people to eat or drink with no worries about their braces.
Another benefit of Invisalign braces is that they are smooth and comfortable to wear unlike their metal counterparts. These types of braces do not have any sharp edges or protruding edges or bits making them safe to wear.
This in turn helps reduce the likelihood of gum disease and cavities that can be caused by wearing a normal brace.
Adult braces cost lean towards the expensive side however, you can alleviate their cost by getting in touch with your dental insurance providers.
Call or schedule a visit to your Hornsby dentist and see whether Invisalign is the perfect braces for you.